Często mam tak: im większe fochy, doły, chandry i niechcemisie, tym więcej kolorów.
Ja wiem, że za kolorowo, ale czasem tak potrzebuję -dla wewnętrznej równowagi ;)
Powrót do mojej ulubionej bajki, tym razem w roli głównej - Wanda.
Moim ulubieńcem jest Piotruś, Wandę też lubię, lecz ciężko mi wybaczyć jej powrót do normalnego świata. Gdybym miała wymyślić tytuł do tej akwarelki to postawiłabym na "Nibywandę" :)
Miałam już wielką przyjemność zilustrowania
"Piotrusia Pana i Wandy"
obrazkami czarno-białymi. Mam jeszcze chętkę na kolorowe, mam nadzieję że kiedyś się uda!
Mam gdzieś w aparacie zdjęcia z powstawania akwarelki. Czy ktoś chce zobaczyć?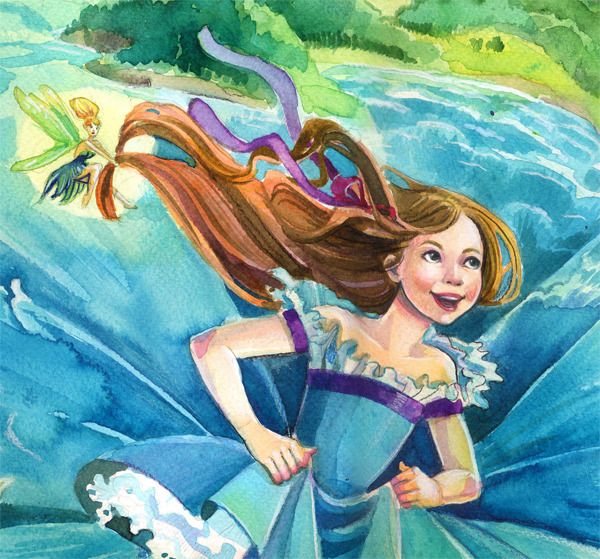 I know I used too many colours, but when I sometimes when I have bad mood or feeling blue I just need some balance :) And bright vivid colors are like a cure for me :)
They were b&w illustration that's why I wish I will have a chance illustrate the same fairytale in color someday!
I have somwhere work in progress shots for this one. Would you like to see?