Ciągle się jeszcze mylę. 2014 wydawał mi się jakiś bardziej swojski i chociaż mnie nie rozpieszczał to mentalnie ciągle w nim siedzę.
Zmuszam się jednak, by nie oglądać się za siebie, nie rozmyślać, nie rozkminiać, tylko robić swoje - najlepiej jak potrafię. Może świata w ten sposób nie zmienię, ale przynajmniej będę z siebie zadowolona :)
Postanowienia noworoczne poczynione, ale w wielkiej tajemnicy, żeby w razie czego nie było spektakularnej klapy.
Jednym z życzeń na przyszły rok jest Sylwester w podobnej scenerii okraszony li i jedynie takimi fajerwerkami :)
Obrazek jest interpretacją
zdjęcia
(nie mogę się doszukać autora :[ ) rysowaną w ramach codziennych ćwiczeń.
Spotkałam na Tumblerze taką rozmowę. Bardzo mi się spodobała.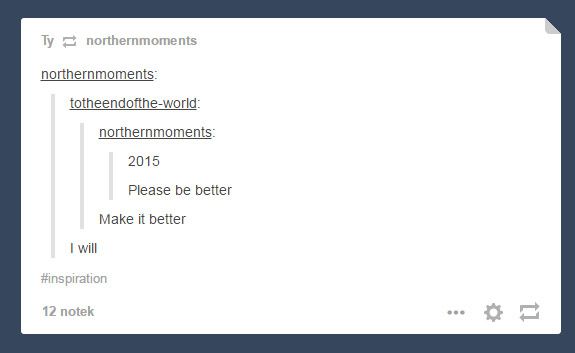 - 2015 please be better
- Make it better
- I will
I found this conversation on Tumblr and it has a great sense to me.
I hope 2015 will be better and I will try to force it even if this year won't be tractable.
One of many wishes for this year is New Year's Eve in such a winter scenery :)
I done this illustration for practice as an interpretation of photo( I can't find the author ;[, if you know who it belongs to please let me know )