Od jakiegoś czasu zerkałam z zastanowieniem na
Etsy
, ale sklepik założyłam dopiero w styczniu, przede wszystkim z myślą o shadowboxach (hm, jaki by tu polski odpowiednik tego słowa wymyślić, przestrzenne obrazki?). Pomyślałam że może przyda się też przy robieniu porządków w pracowni gdzie na półkach zalegają sterty obrazków.
Na pierwszy ogień poszła mała
Norweżka na tle fiordu
i ... już jej nie ma :D
Trochę mi się za nią tęskni. Jeszcze nie opanowałam rozstań z obrazkami.
I was thinking about open Etsy shop and finally, in this month I did it!
I am very excited specially when my first shadowbox on sale is sold and safe with new owners :)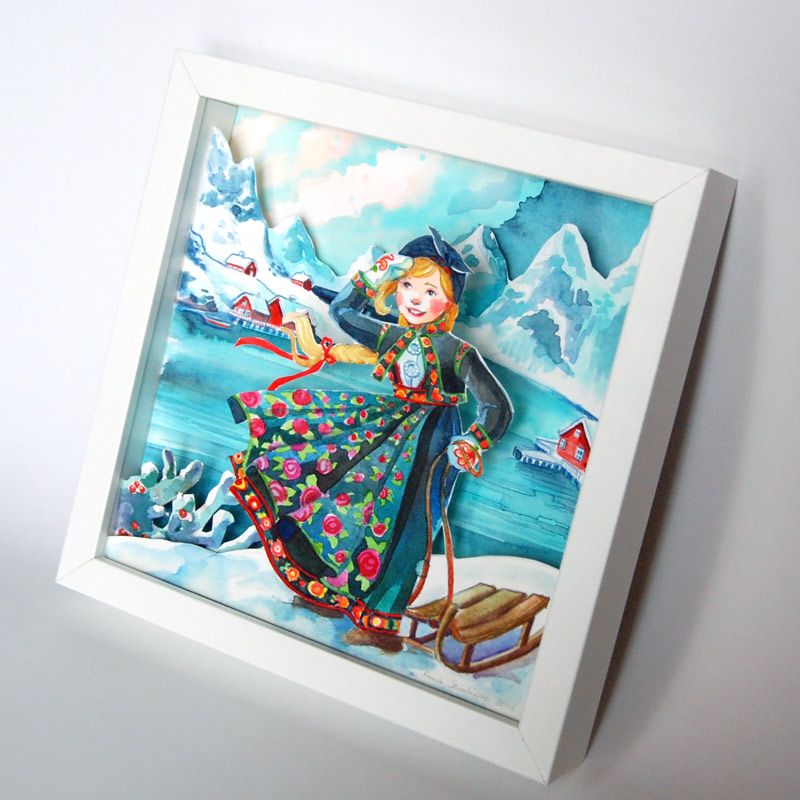 Na pewno ruszę szlakiem folklorystycznym przy następnych shadowboxach, choć nie tylko - pomysły się mnożą.
Do następnego wykorzystałam stworzoną wcześniej ilustrację
syrenki
.
Zapraszam do
sklepiku
!
I wish to create series of shadowboxes with folklore costumes. I love this theme . But I have lots of ideas of different kinds.
For example - new one is Mermaids Songs. Mermaids are my favorite creatures since childhood :]
I hope you will visit my Etsy shop and find there something for you!