Wspominałam już, że założyłam sobie
konto na Twitterze
?
Głównie po to by bawić się w wyzwania na
Sketch Dailies
(codziennie nowa postać do narysowania)
Jest to niezła motywacja do rozrysowywania się, próbowania z nowymi stylami i mediami.
Choć akurat ostatnie wyzwanie - Jeżdźca Bez Głowy namalowałam (typowo dla siebie) akwarelami.
W tym natchnieniu obejrzałam wczoraj po raz kolejny Sleepy Hollow :)
Na konia nieopatrznie władował się Kopciuszek i chyba nie jest zbyt zadowolona.
Dynia- jest, książe na białym koniu- jest, nawet prezent ślubny!
Niektórym naprawde ciężko dogodzić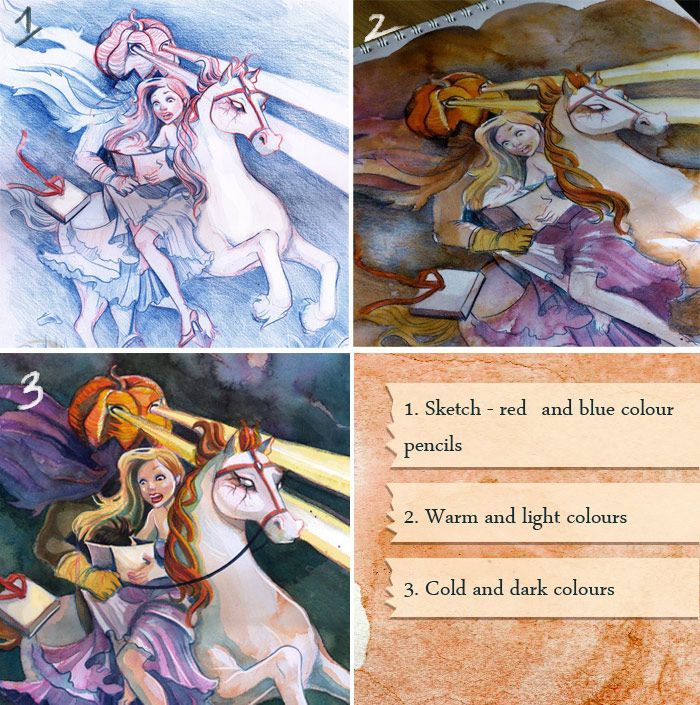 Did I say I have a Twitter account now? I signed up there to take a part in Sketch Dailies - every day a new character to draw. It is quite fun to see how other people imagine popular characters and great way to exercise drawing too.
And above- topic from last Saturday.
Do you recognize this not quite happy heroine?
Magical pumpkin- check
Prince on the white horse- check
What you want more, Cinderella?