Od jakiegoś czasu poszukiwałam sposobu na uzyskanie w Photoshopie podobnych efektów jak w tradycyjnej technice akwarelowej. W internecie można znaleźć całą gamę pędzli naśladujących plamy, tworzyłam też swoje zestawy chluśnięć ze skanów, ale były to tylko efekty, które miały rysunek upodobnić do tradycyjnego. Bardzo fajne mieszanie kolorów ma Paint Tool SAI, ale to też nie do końca to.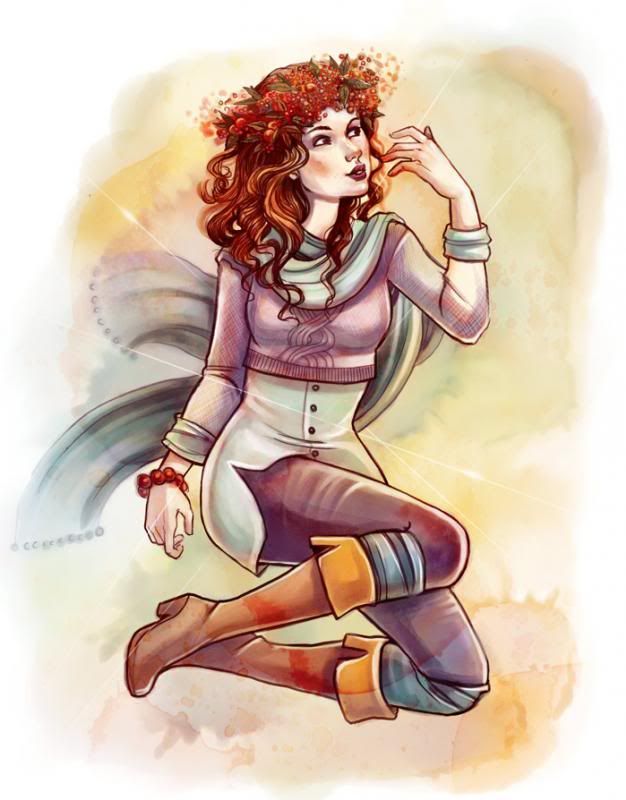 Potem zaczęłam kombinować z mieszaniem kolorów w Photoshopie wykorzystując do tego Smudge Tool i pędzle ustawione na tryb "mnożenie"( Multiply) oraz gumkę, dla uzyskania wrażenia zanikającego pigmentu po rozmyciu wodą.
Już lepiej, kleksy trochę przypominają akwarelowe chluśnięcia, ale stworzenie ich jest czasochłonne a komputer myśli nad każdym pociągnięciem Smudge Tool, zdecydowanie za długo, zwłaszcza przy większym pędzlu.
Przegrzebując internetowy zasoby trafiłam wreszcie na fajowe zestawy pędzli
Kyle'a T Webstera
i wreszcie czuję że jestem blisko. Dzięki nim nie tylko można uzyskać podobny efekt, ale nawet otworzyć proces malowania akwarelami.
Oba obrazki namalowałam w Photoshopie przy użyciu zestawu
Kyle's ULTIMATE Real Watercolors for Photoshop
. Kosztuje 7 dolców, co w przeliczeniu na PLN wychodzi lekko ponad 21 zł i uwazam że naprawdę warto. Jeden z najfajniejszych akwarelowych pędzli Kyle's ULTIMATE Wet&Wild Watercolor Brush można pobrać za darmo (choć donacja wskazana).
I was searching the way to achieve watercolor look painting with tablet only. I used Smudge Tool and Painting Tool SAI ( it blends colors wonderfully) but it was still not what I want to see.