Wreszcie zrobiło się ciepło! Koniec kwietnia przetykany słońcem i deszczem bardzo mi się podoba,. Tak bardzo ze zastanawiam się czy jednak wiosna, do tej pory najmniej przeze mnie lubiana z pór roku, nie powinna wyprzedzić w rankingu lata.
Wczoraj był dzień Ziemi i zdążyłam uczcić go szybką ilustracyjką w ostatnich jego godzinach.
It is so warm outside, finally! I always was Autumn - Winter kind of girl but in this year Spring won me!
And below little, wuick animation for yesterday's Earth Day :)
A taki mam plan na resztę mojego materiału w pseudołowickie pasy (zamówiłam se w
Cottonbee
, bo dokładnie taki chciałam na zasłony do szafek w kuchni, a nigdzie nie mogłam znaleźć choćby podobnego - bardzo jestem z niego zadowolona, jak tylko zarobię duuużo kasy to pozamawiam sobie więcej z bardziej wariackimi wzorami :))
Szalik-komin właściwie gotowy, ale muszę go trochę zwęzić, bo za szeroki wyszedł.
I'm going to sew a scarf from scraps of my striped fabric, just like in the picture :)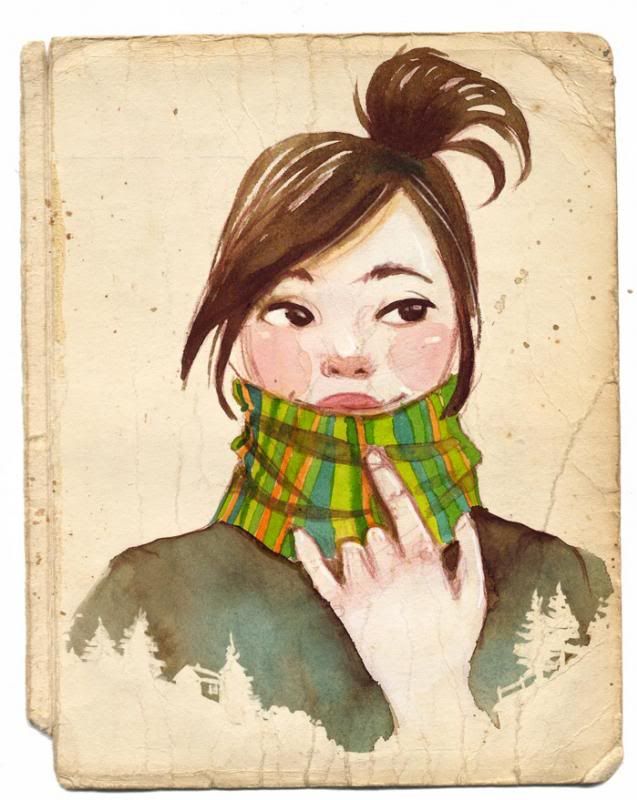 A na koniec taka kolorystyczna zbitka. Bardzo uspokajająco działają na mnie te kolory. Powinnam je zastosować w swojej pracowni :D
I should use this colours in my work room, they make me feel peaceful and relaxed :)
I will think about refreshing my place for Spring for sure!
Zapraszam też do wpadania na mojego
Tumbr'a
. Wrzucam tam różne ścinki ilustracyjne dużo częściej niż tu, choć piszę niewiele. Traktuje go jak szufladę na różne pomysły, szkice i inne pierdoły, ale może znajdzie się tam coś ciekawego...
I invite you to visit me on Tumblr too. I post there more often and I use it as a drawer, where I'm throwing a lot of sketches, doodles and other stuffs. MAYBE you will find something interesting there... but I can't promise :D