Ostatnio mam dużo pracy nad bardzo fajnymi tematami, tylko czasu jakoś mniej :)
Miedzy innymi pochylam się nad akwarelkami związanymi z historią (dla dzieci), a że przedmiot ten zdawałam na maturze i nadal darzę wielkim afektem, tym większą mi radość sprawia malowanie.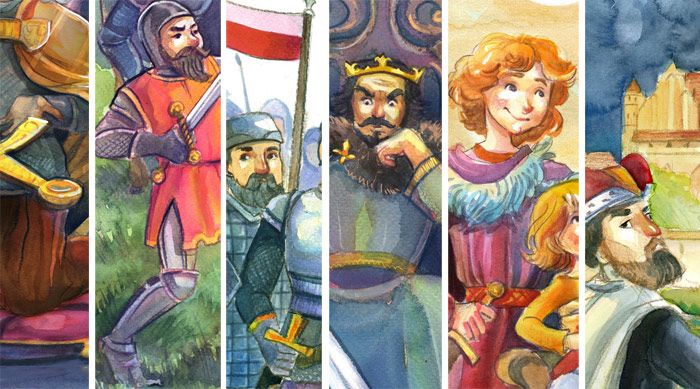 Terminy marcowe w pracy zapełniają się- to też mnie cieszy, bo choć czasu na własne fanaberie rysunkowe mało, zawsze to lepiej jak zlecenia szukają mnie, niż jak ja - zleceń :)
Odpięłam też bloga od swojej strony z portfolio. To połączenie hamowało moje blogowe zapędy - człowiek 5 razy musiał się zastanowić zanim napisał jakaś głupotę ( choć załażę się, że ostatecznie i tak nie raz napisał:))
W każdym razie swobodniej teraz trochę u mnie będzie.
Mam też nadzieje, że gdy już trochę zwolnię ilustracyjne obroty, będę mogła pochwalić się czymś co uszyję na mojej nowej maszynie do szycia, na którą właśnie zerkam z miłością i tęsknotą, gdyż nie dane będzie mi do niej usiąść jeszcze przez jakiś czas.
Nie mam pojęcia o szyciu, ale po przeszyciu kilku szwów obudził się we mnie nieopanowany zapał i przeczucie szwalniczego geniuszu który tylko czeka na jego rozbudzenie :D
In short:
February is very busy at work, but projects, which I'm working on brings me lot of joy.
I got sewing machine! But no time to learn how to use it. Although I feel I'll be rocking in sewing :D