A z wielkanocnym gniazdkiem leciało tak:
0. Pomysł :)
1. Szkic ołówkiem (B3) na papierze do akwareli A4
2. Nakładam na całość ciepłe kolory na mokro za pomocą miękkiego dużego pędzla by mogły się swobodnie przenikać tworząc ciekawą fakturę. Tło pozostawiam niepomalowane.
3. Dodaję inne kolory według zasady - najciemniejsze na końcu.
4. Pracując nad szczegółami maluję na wyschniętym obrazku żeby uniknąć rozmywania się kolorów i linii.
5. Wykańczam obrazek dodając maźnięcia białą kryjącą farbą cieniutkim pędzelkiem.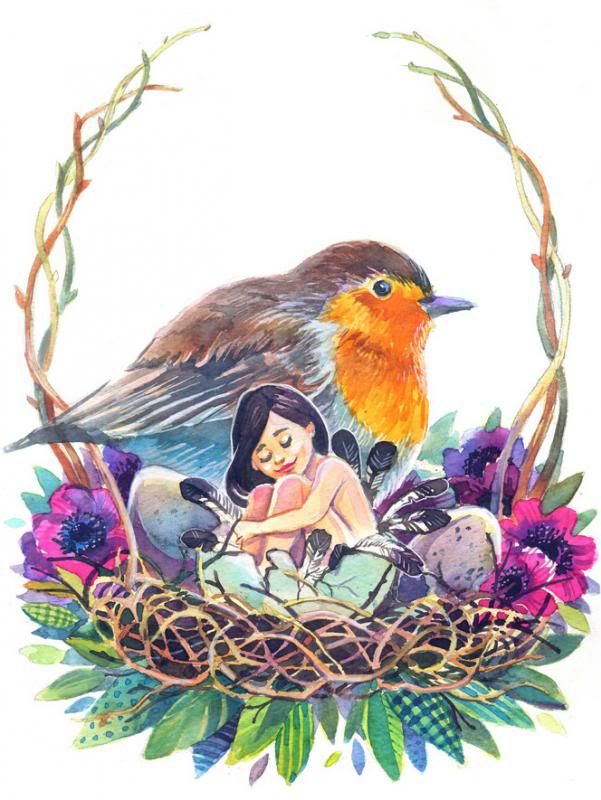 0. Idea
1. Sketch with soft pensil (b3) on watercolour paper(A4).
2. I applied warm watercolours on wet sketch with thick brush. I left bacground white.
3. I added colours. I started with bright colours. Dark colours go at the end.
4. I paited detalis with thin brush on dry paper to aviod blurring of colors.
5. Last step was using white, opaque paint.