Tak to leciało z kwietniową panienką:
1. Na tle akwarelowym z
lostandtaken.com
naszkicowałam w photoshopie na kolejnej warstwie dziewczynkę ustawiając tryb warstwy na "mnożenie".
2. Pod spodem na tło nałożyłam dwie ciemniejsze warstwy z fakturą papieru. Zanikanie ustawiłam przez dodanie gradientu na masce warstwy.
3. Na kolejnej warstwie pędzlem z kryciem ustawionym na 100% pokolorowałam obrazek.
W tym miejscu stwierdziłam że wszystko wygląda beznadziejnie i szkoda czasu. Zniechęcona poszłam spać.
Ale następnego dnia znów otworzyłam plik i dłubałam dalej.
4. Dodałam kolejną warstwę z pomalowanym akwarelą papierem i za pomocą maski wymazałam wszystko poza pokolorowanymi obszarami.
5. Na następnej warstwie ustawionej na tryb "nakładka" dodałam kolorów sukience, skórze i parasolowi.
Lubię ten tryb bo pozwala kolorować warstwy pod spodem nie zamazując ich faktury.
6. Chmury powstały poprzez dodanie nad tłem warstwy którą pomalowałam pędzlem z kolorem białym, zamalowując obszary tła.
7. Kwiaty to kolejna warstwa z papierem z akwarelą, powstały poprzez zamalowywanie niechcianych obszarów na masce warstwy. Tak samo dodałam kałużę.
8. Ostatnia warstwa to krople, białe linie na kwiatach, dopracowywanie.
9. Na koniec, po zrobieniu kopii warstw i jej spłaszczeniu, za pomocą obrazek> dopasowania> kolor selektywny zrobiłam ostateczną korektę kolorów.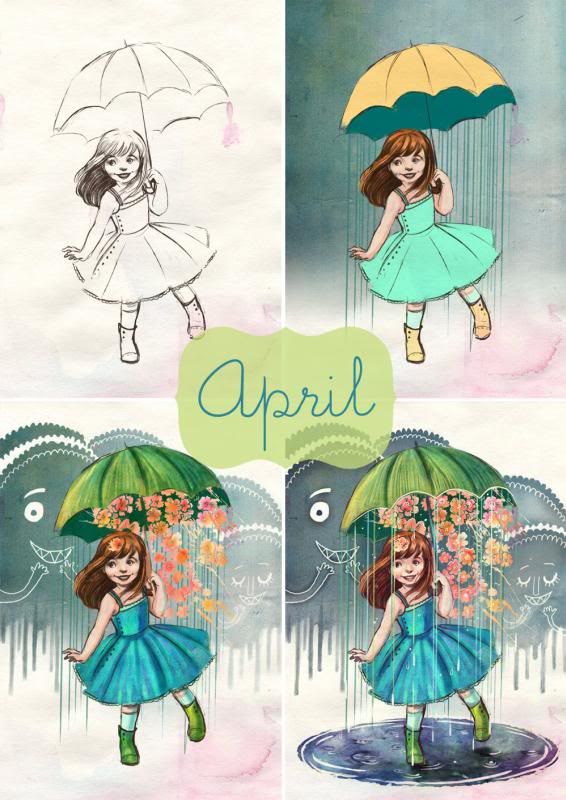 Pewnie powyższy opis będzie niezrozumiały dla osób, które nie obcują na co dzień z Photoshopem, a możliwe że i dla tych którzy obcują również :)
Dlatego dorzucam filmik pokazujący nakładanie kolejnych warstw obrazka, które stworzyły całość.
In Polish it must be hard to understand, but in (my terrible) English it can be a dissaster, but let's try, shall we?
1. I opened texture from lostandtaken.com and drew a sketch of a girl on new layer ( blend mode'multiply')
2. I added new texture above background and applied a mask with gradient.
3. On next layer I painted picture with brush (100 % opacity )
At this point I thought everyting looks hopeless and I went to sleep :) but next day I opened my work once again and continued the fight.
4 .I added new watercolour paper layer and masked everything what was not the girl and umbrella. I added colours on new layer with 'overlay' mode.
5. Clouds was made by painted with white colour on another layer
6. Flowers and plash I made as in 4 piont.
7. On highest layer i added rain drops.
8. At the ans I coppied all layers ansd merged them in one and add adjustements( image>adjustment>Selective colour)
Odtwórzcie sobie w jakości HD :)