Czekałam, aż dotrze do mnie egzemplarz autorski, niestety, może przez te zawieje śnieżne, jeszcze się ociąga z wpadnięciem w moje szpony.
Tak prezentują się ilustracje do
"Bajki o odnalezionym Słoneczku"
autorstwa
Beaty Gradowskiej
i wydanej przez
Novae Res
. Książeczka opisuje drogę, jaką przebywają Rodzice, by móc adoptować dziecko, które wnosi w ich życie słońce i radość. Dość nietypowa tematyka, jak na bajkę, prawda?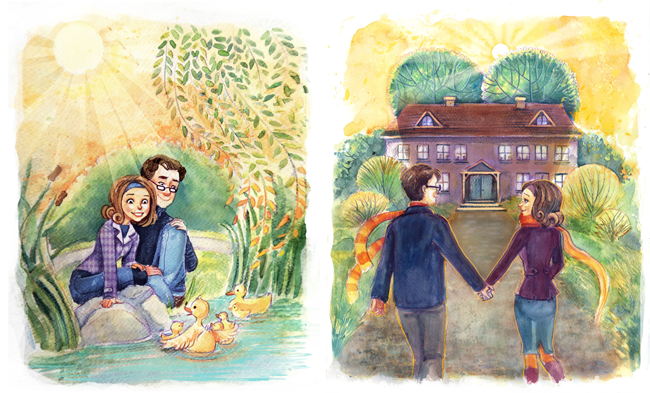 Wreszcie mogłam sięgnąć po akwarele i ilustrowanie dało mi wiele radochy, zwłaszcza, że w zeszłym roku większość moich poczynań roboczych związana była z Photoshopem i Ilustratorem, więc miła to odmiana.
Książeczkę ilustrowałam w listopadzie (zresztą chyba widać po wszechobecnej na ilustracjach złotej jesieni :)), a po niej potoczyły się kolejne zlecenia na ilustracje tradycyjne, które w miarę jak będą publikowane, na pewno przedstawię i nikt mnie nie powstrzyma!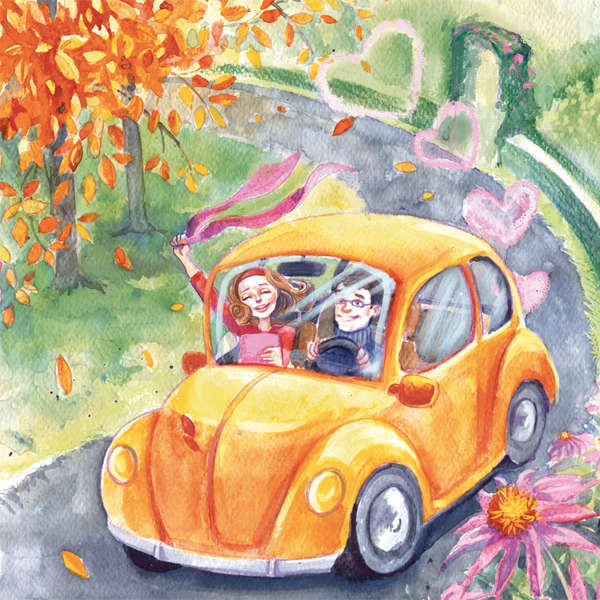 Takiego garbuska mieć! Ach...
I have pleasure to announce: new book with my illustrations was published.
I painted them in November and that's why you can notice gold Polish Autumn on the pictures.
It was really great to illustrate using traditional media again. And I can promise, there will be more books with my watercolours soon.
Book tells story of a couple who seeks sun and light in their live and founds it in orphanage.
I really really hope you like it!