Jak obiecałam, poniżej proces malowania ilustracji.
1. Zaczęłam od szkicu ołówkiem na papierze do pasteli.
To było pierwsze jego wypróbowanie i niestety, nie bez powodu nie nazywa się papierem do akwareli- jest za cienki i widać na nim zbyt mocno pociągnięcia pędzla.
2. Następnie obficie zmoczonym dużym pędzlem zaczęłam dodawać kolory(ekoliny) uważając by nie nanieść ciemnych barw na twarze postaci.
.
3. Bardziej szczegółowe potraktowanie obrazka farbami. Zmieniłam pędzelek na mniejszy.
W związku z tym, że farba zbyt się rozmywała na papierze, ciężko było dopracowywać szczegóły. Dlatego do akcji ruszyły Copic Markery z pędzelkowymi końcówkami.
4. Ostatnim etapem było nałożenie pasteli w kredce. Świetnie wyglądają na ciemnym tle i ładnie się sprawdziły przy dopracowywaniu twarzy.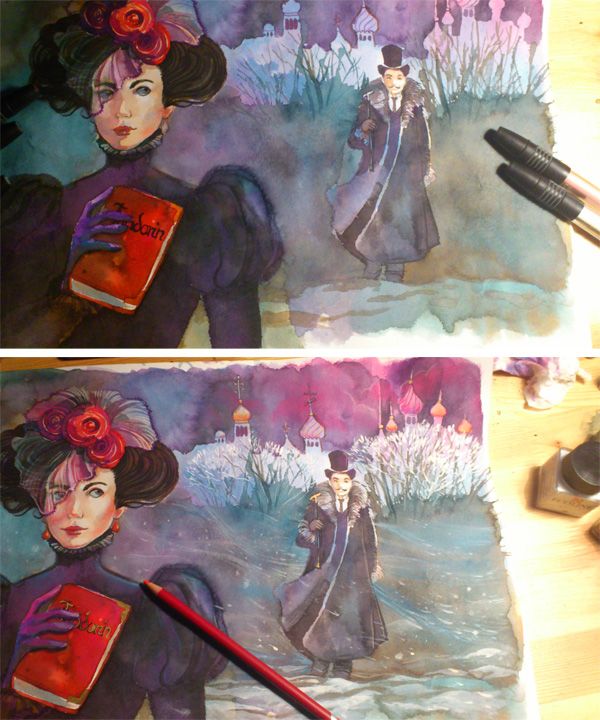 Na koniec zestawienie twarzy kobiety z wszystkich etapów.
W przeciwieństwie do mężczyzny , który ma być Erastem Pierowiczem Fandorinem, kobieta nie jest żadną konkretną postacią z książek, raczej ma wyobrażać te wszystkie tajemnicze piękności jakie przewijają się przez karty serii :)
That's how process looked like:
1. Sketch on pastel paper ( pastel paper was a mistake- it's too thin)
2. I covered paper with ecoline, trying to skip faces.
3. I tryied to finish details with ecoline too, but paint was spilling over on paper so I used Copic Markers
4. I finished work wit soft pastel pensils. They look quite good on dark bacground.
Hope you like it!