Wymieniliśmy się pokojami jakiś czas temu. W miejscu gdzie stało nasze łózko na

ścianie

zostawiłam niepomalowany pas szerokości zagłówka, który miał być obklejony jakąś wzorzystą tapetą.
I to w dodatku kiedyś tam zaczęłam ją malować, ale w trakcie mi się odechciało....
Tymczasem doszło do zamianki i Stach dostał pokój z kawałkiem białej ściany z kwiatkami zupełnie od czapy.
Myśleliśmy

o wyklejeniu problematycznego kawałka fototapetą z układem słonecznym ( Stach jest

dziewięcioletnim

miłośnikiem astronomii i wie więcej o czarnych dziurach, pulsarach i implozjach niż ja kiedykolwiek). Ceny fototapet nas trochę przestraszyły i oto co zrobiliśmy:
1. Pomalowaliśmy ścianę na

kryjący

niebieski kolor- idealnie w kolorze który się przewija na ikeowskich zasłonkach.
2. Bartek pożyczył z pracy rzutnik multimedialny.

Wyświetliliśmy

na ścianie mapę nieba z laptopa.
3. Za pomocą olejnych mazaków ( kolor biały i srebrny) przerysowaliśmy konstelacje
Prościzna, a wygląda całkiem fajnie :)
W każdym razie lepiej niż biała ściana..
.
Jeszcze

myślę

o tym żeby

połączyć

gwiazdy w

konstelacje

, żeby chłopakowi wryły się w pamięć.
Taka wiedza się mu przyda do bajerowania dziewuch w przyszłości ;)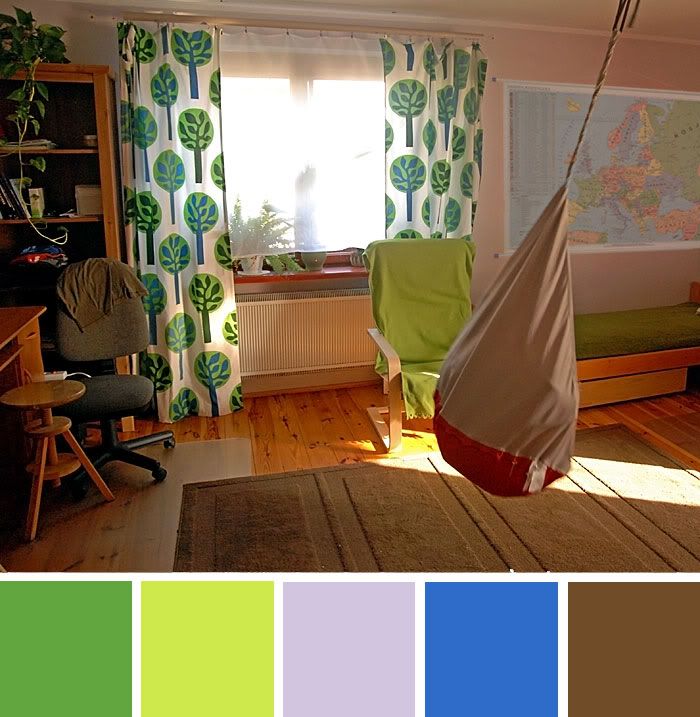 Ten obałek w huśtawce to własnie tajemniczy Staszek. Świetna rzecz taka huśtawka, cała rodzina ma zabawę :)
I have 9 years old son. When we switched our rooms recently, then he gets room with a large area of white wall with flowers( I started painting them when it was our bedroom, but had never finished). We wanted to buy photo wallpaper with cosmos theme ( Staś is very interested in cosmos and all that), but it was rather expensive solution.
So we :
1.Painted white wall on deep blue color ( it matches with curtains from IKEA) ,
2.Took projector and displayed night sky on the wall.
3.Then we redrew star contellations with white oil markers. And thats it!