Na styczniowe urodziny przyfrunęła lalka zrobiona przez Lamartę! Jestem nią absolutnie zachwycona!
Gdy trzymam ją w rękach czuję się znów jak dziesięciolatka :),
a jej koci kompan w pszczelim ubranku rozłożył mnie na łopatki.
This lovely doll and her mate are gifts for my birthsday( january) from talented lamarta:)
I love them!
Razem z królikiem Haroldem, zajmą jakieś wyeksponowane miejsce w moim nowym gabineciku, czym na pewno się pochwalę :)
Już obmyślam imiona dla tej pary, chyba że Marta masz już jakieś typy?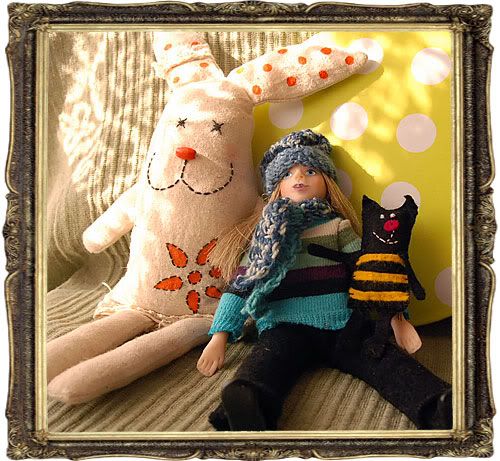 Na szeroko zakrojone malowanie nie mam czasu, ale jest to zupełnie inny pęd czasowy niż rok temu- siedzenie nad ilustracjami daje tyle radości!
Kiedy komputer myśli za długo , a zdarza się to staruszkowi coraz częściej, wtedy pokatnie powstają takie wykręcadła.