Pachnie, świeci i kwitnie, a wszystko to takie nieosiągalne z okien pociągu.
Wolny czas urósł do rangi świętości i wszelkie zakłócenia weekendowe, w które obfituje maj - wesela, komunie , traktuję niemal jak zamach na moją prywatność. Psychoza...
Bo mam inne plany na te dwa dni życia pomiędzy pracą i dojazdami.
Niestety, jak zwykle, na planach muszę poprzestać.
Niepokończone twory muszą poczekać, podobnie jak majowe łąki, spacery, jazda na rowerze, czytanie książek, dyndanie na hamaku i tysiące innych przyjemnych rzeczy.
A to moje pocieszki, które dotarły do mnie w związku z wymianą ATC "Na zielono"
Jak widać Cynowy Dzwoneczek stęsknił się za mną :)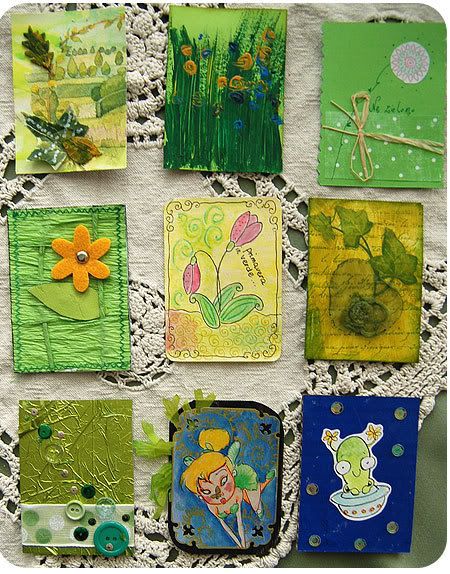 Koniec marudzenia, z pewnością będzie fajnie na sobotnim weselu. Nawet jeśli nie, to znajdzie się coś dobrego do jedzenia!